12th December 2016
I promised myself that I would keep this a fairly brief overview of my time as an intern with Justice in Motion, but it's been a very busy few months so bear with me if I rattle on a little!
And in my opinion, being involved during such a busy period was ideal really – it meant I got a real flavour of what the company is all about and got to dip my toes into all sorts of exciting projects, each one at a different stage of development and each one requiring a different set of skills and actions to be applied.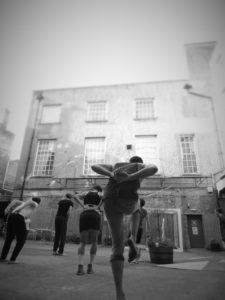 First, of course, there was ed/" target="_blank">CONTAINED (or rather CONTAINED part 3) which I was fortunate enough to see through from a beginning of sorts – the auditions for the new cast – to a fitting conclusion, the debut performance of the developed piece in early December. This meant that I really had time to get to understand the piece and invest my energies into it – and this gave me the confidence to give the honest feedback and analysis I was so kindly invited to give at each stage throughout the process. My opinions were valued as we conducted auditions and recalls and interviews and further workshops; I was asked to participate in warm-up games, and even understudy certain characters when the actors were needed off-stage. And all of these sessions were simply enjoyable to observe anyway – I had never before had the pleasure of seeing a group of male non-dancers attempting to master with such drive and determination a tricky movement phrase in such a short space of time, or seeing all of the candidates having far too much fun impersonating (very raucous) birds for a good half an hour!
Next, we held our Creative Lab at Oxford's story museum, and this was a great experience for me as it allowed me to engage with the public, and many children too – something I love to do; learn a lot about migration, and some of the facts we were sharing with our visitors I found very surprising; and it also opened my eyes to another creative means of broaching the topic of migration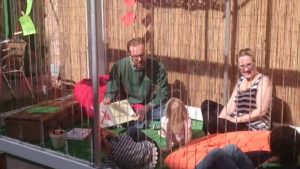 – through storytelling and role-play, and by focusing more generally on the idea of journeys and travelling, concepts easier for little ones to understand.
Then later that month it was off to Brussels to take part in the Nuit Blanche cultural exhibition which this year was based on the theme of 'Borders'. I was thrilled to be asked if I wanted to come along in the first place and by the end of our few days away I was certainly not disappointed that I did. Being in such a cosmopolitan, multi-cultural city really brought the word 'migration' to life, for a start. Every single member of the team we had assembled to be a part of this specific project had a different ethnicity, a different cultural heritage, and between us, we must have spoken at least 10 different languages! And this, undoubtedly, made the whole experience richer, gave it more depth and meaning. Plus, it was a real eye-opener for me from an artistic point of view. Never before had I come cross virtually any of the improvisation and creative tasks we used to build up our characters, backstory and 'script' and work it all together into a performance, and never would I have believed that this could be achieved, and in such leisurely and … fashion, in just three days' worth of rehearsals! Yet we found the time to play games and get to know each other, to read and discuss real examples of migrants' stories and reflect on the themes, to work on a variety of dramatic techniques, to explore the movement of our bodies and examine the nature of our emotions, and finally combine all that knowledge and insight we had accumulated into one performance: 'The Extraordinary Queuing Experience'.
And although cold, and fairly difficult to orchestrate on a practical level, being outside with a mobile and unwitting audience, the piece went down well and seemed to provoke a response of some form – be it of outrage, amusement or confusion – from many people, which was our intention.
And once we had returned to the UK, our attention reverted back to 'Pecking Order', the main, scripted feature of CONTAINED part 3. The new cast was welcomed on board, the necessary preparations were made, and then for two solid weeks rehearsals took place at a wonderfully wacky warehouse in Newbury. I, unfortunately, wasn't able to be present for the entire duration of rehearsals, but even just being there on three or four separate occasions, I could see the vast extent of the entire team's skill, dedication and determination to make progress as clear as anything. I would walk in in the morning ready to start and they would have already been frantically hula-hooping, pulling themselves up a set of aerial dance ribbons, doing tricep dips on the container roof, running lines and practising choreography, amongst other things, simply to warm themselves up for an entire hour. Developments were made daily – lines were rewritten, movement phrases were added, musical scores were reinvented – and alongside this, our understanding of and investment in the concept, themes, context, characters and wider social implications of the piece deepened, as we engaged in more and more analytical discussions together, became more and more informed, and came to believe more and more in the integrity of what we were creating. And I'm happy to say that the debut performance, at Lady Margaret Hall in Oxford on December 8th was I great success.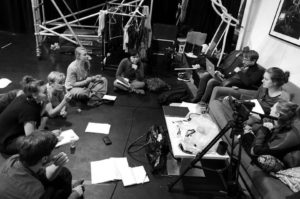 I thoroughly enjoyed being part of the 'Extraordinary seating experience' (modified to fit in a theatre setting), and it was a pleasure to watch the play simply as an audience member and to see other audience members' positive reactions. The post-show discussion was stimulating – many people were keen to engage and share their views – and the display we had set up to show what we had done at the creative lab certainly kept them entertained for a while too – though I'm sure the free glasses of champagne helped in that regard! And that was where my journey with CONTAINED ended – happily, on a very high note.
It was with KAIHO that I perhaps had the least involvement, given that funding applications for the project have been the main focus over the past few months. But just seeing how much time and effort was required to fill these out was eye-opening in itself! Then my attention was turned to the preparations for the project's launch night – a concert by UUSIKUU (with whom Justice in Motion will be collaborating to create KAIHO) in which Anja and Roosa would be performing one number. So I did my best to help with marketing, taking photos and videos, giving feedback during rehearsals and then setting up on the night. And what a success it was.
I thought the Finnish tango music was a revelation and Anja and Roosa's contribution was truly beautiful and clearly heart-felt. After that, I was in charge of managing the crowdfunding campaign we set up in order to raise funds for the project, plugging away daily on social media to try and encourage people to donate to our cause. Many people were generous with their pledges but unfortunately we were unsuccessful in our bid. Still this didn't deter anyone – the whole team is still very enthused by the prospect of developing KAIHO and performing it in Oxford, London and Helsinki, for a start, next year – and I certainly look forward to seeing all the progress made as the creation process starts properly soon!
In terms of BOUND, which isn't currently being performed, my attention was focused mainly on marketing and researching possible theatre venues ahead of the 2017 tour. And although this involved devoting lots of time to filling out a very long spreadsheet indeed, I found the whole exercise interesting. It was great to learn more about the project itself for a start, and it also enabled me to find out more about other theatre and dance companies that engage with the theme of social injustice, along with charities working in the fields of human trafficking, modern slavery, and exploitation etc. – some of the main issues BOUND confronts – and these topics themselves, which by all means need to be tackled but about which most of us are regrettably ignorant… That job done, I can now look forward to seeing the piece for myself when it tours in the new year!
So, it's quite apparent that I found my time with Justice in Motion beneficial. But why precisely? Well, I think one of the reasons I found the internship to be so special was because of the way I was treated, primarily by Anja, the wonderful artistic director of Justice in Motion, but also by every other (equally important and valuable) member of the team. None of us really had any exact expectations when I approached the company to apply for work experience, so we sort of played the whole thing by ear – but I'm convinced that that was the best option. Because it meant that I was trusted to try my hand at tasks that I perhaps didn't have much experience of doing, but that others in the team didn't either, so I had licence to be creative and muddle things out for myself! My thoughts and reflections were always encouraged and often taken on board, and in general, I was just made to feel incredibly welcome by everyone, and really part of the team.
And I gained confidence in this way, feeling gradually more and more able to voice my opinions and give honest feedback, including criticism; so the whole experience was a great chance for me to build my sense of assertiveness and self-esteem.
The internship also presented me with the opportunity to connect with a larger network of interesting and talented people – artists, changemakers etc. – both in and around Oxford and further afield, which I am grateful for, to go on the CONTAINED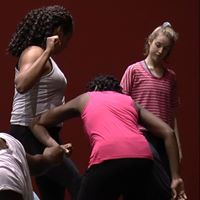 work-trip to Brussels, to help lead a physical theatre workshop in London for Initiatives of Change's Arts Festival, to participate in workshops and dance classes (specifically the fantastic, Justice in Motion run 'in.motion' classes) myself, and to go and see performances at the theatre – 'Glasgow Girls' for example, based on the story of four asylum seekers – in the company of those with whom I could have stimulating and sometimes unexpected analytical conversations in the interval.
Regarding the skills I acquired, I've certainly gained experience working in both creative and more administrative roles. I've had more practice working with spreadsheets, I've learnt to use database software, I've experimented with different design applications and have had the chance to create marketing material myself, I've become a self-proclaimed 'whizz' at social media (!) and finding ways to engage indirectly with our audiences, and I've even had the pleasure of dabbling in a little bit of acting, directing and choreographing too, amongst many other things, which has been brilliant!
And what I've learnt about the company itself (and no, they didn't pay me to say this – my work was voluntary after all!), is primarily how hard-working, passionate and committed the team is to creating thought-provoking, exciting, high-quality pieces of art and to promoting social justice. They really do work round the clock to ensure that each working project is developed to its full potential, that innovative new ideas for future projects are generated, and that the company just stays afloat, which given the current financial climate, is pretty much a full-time job in itself! They really care about each other, about theatre craft and about the injustice they are committed to raising awareness of and campaigning to eradicate; are great fun to be around; are incredibly talented; and how brilliantly diverse they are, in terms of background, skill set, nationality and personal journey in general.
Thank you to you all for a brilliant few months and I wish you all the best for a cracking 2017! (Though you've definitely not seen the last of me!)